I present to you, the loyal readers, my latest (and last, for a while) Game for Engineers: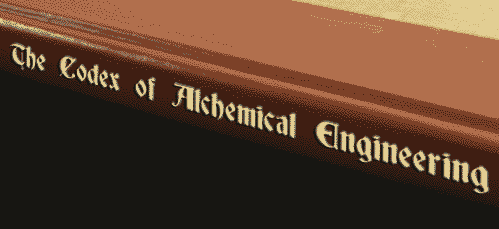 Launch The Codex of Alchemical Engineering (640×480)
Those of you who have played Manufactoid will recognize that this game is essentially the same concept, except for one small caveat: there's no programming required! Many people were unable or unwilling to play Manufactoid because of the programming requirements; The Codex of Alchemical Engineering instead requires you to program robotic manipulator arms with a set of symbols that control its motion. This game also builds on the converter aspect of Manufactoid by employing multiple Glyphs that perform various transformations, contrasted with Manufactoid's mono-purpose converters that were entirely level-specific. There's not a lot more that needs to be said, as all instructions are provided in-game, so go play it now!
Feel free to post your solutions in the comments, so long as you don't write anything spoilerific that could ruin the game for other players. I'm not sure how you could really spoil anything about the game, though, but don't take that as a challenge.
A few notes about the game:
After completing a level, your progress is saved so long as your Flash "cookies" aren't deleted. Your design, however, is not; if you want to keep your design, you must go to the Save screen and save the text shown there (I keep my solutions in a text file on my desktop). You can reload a saved design by pasting the design code into the Load window and pressing the load button.
The music playing is Evan's "Rever… Peut-etre…", which you can find here on jamendo.com.