When I released Ruckingenur II three months ago, the reaction was pretty epic. One of the most common comments was that there was no level editor; today, I deliver!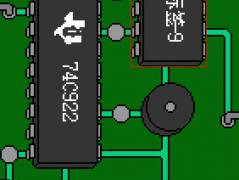 Everything that applied to Ruckingenur II applies to the Ruckingenur Editor; you'll need .NET 2.0 (maybe 3.5?), it'll probably crash if you're running a 64-bit version of windows or don't have a sound card installed, and should be easy to get running under Mono or Parallels.
Download Ruckingenur Editor (12 MB)
The Ruckingenur Editor conforms to fairly standard editor mechanics, so it should be pretty easy to use your first time. Here are some tips:
The only "hidden" feature is that you can hold down shift while dragging a circuit board, project box, or chip to drag everything that is on top of it along with it.
While widgets are placed with default DisplayLevel values, you may sometimes have to tweak them to get things to stack the way you want – widgets with higher DisplayLevel values are placed above those with lower DisplayLevel values.
When two widgets with the same DisplayLevel overlap, they will flicker.
When running a .ruck level, the Ruckingenur Player searches for a file called "script.lua" in the same directory and uses that as the script. The file "ruckapi.htm" in the zip file provides documentation for scripting Ruckingenur levels.
Sounds and images that you add should be added to the same directory as the .ruck file.
Check out the level1-remake folder for a full remake of level 1 from Ruckingenur II built in the Ruckingenur Editor.
From what I can tell, it's fairly stable, but if any more bug reports come in I'll be rolling out new versions and uploading them here.
If you have questions or find bugs, please email me at zachbarth@gmail.com! Good luck!