Over the past few weeks (namely, since finishing the Ruckingenur Editor for the Ruckingenur Challenge), I've been working on a totally new game. A game that I have just now finished. I present to you, Bureau of Steam Engineering.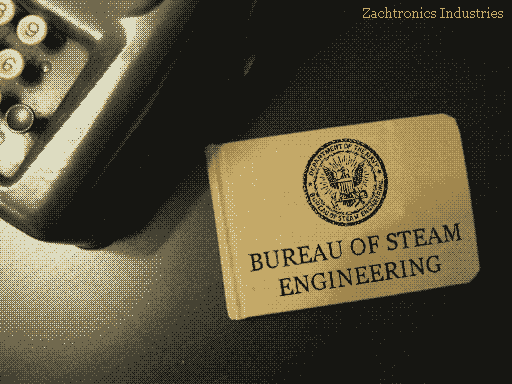 Launch Bureau of Steam Engineering (1024×768)
Launch Bureau of Steam Engineering (512×384)
Unlike any of my previous games, BSE is entirely Flash based, meaning that (almost) everyone should be able to play with no technical problems!
In Bureau of Steam Engineering, you play as an American steam engineer at the beginning of an alternate civil war who must design and duel steam powered mechs to defend the Union!
Enjoy!
A few notes:
After completing a level, your progress is saved so long as your Flash "cookies" aren't deleted. However, your designs are never saved when leaving the workshop to return to the mission select screen.
It's easy to find yourself in a situation where your steam design isn't working as you'd like. It's good practice to use gauges to ensure that pressures are building as you expect; things that potentially vent to the outside, such as weapons and control mechanisms. If you're really stuck, you can always post to the comments with your question.
All the music is from jamendo.com, a really great creative commons music site. The song at the title screen is "En retard!" by Evan, while the rest of the music is by Celestial Aeon Project.
For the curious: the pressure algorithm works by iterating over all paired connectors, each with a volume estimate and a pressure, and exchanging a "steam amount" (representing n in the equation PV = nRT) to neutralize the pressure between the two components. This is repeated until the pressures between each pair of connectors are neutralized to an acceptable degree (I believe I used a value of around 0.15 PSI). After neutralizing the entire pressure circuit, we advance the simulation by the time delta to flush "steam" from things that "leak", trigger pressure dependent valves, and advance other time-dependent components.