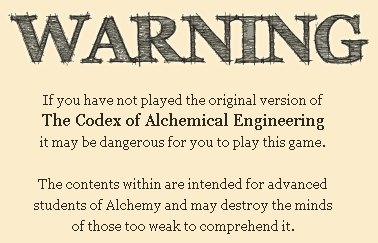 Launch The Codex of Alchemical Engineering :: Magnum Opus Challenge (640×480)
If you haven't played The Codex of Alchemical Engineering you definitely do not want to play this game. It will destroy you.
A few notes about the game:
This time around, all levels are unlocked; they will be marked as you complete them and can be done in any order.
The music playing this time is Greendjohn's "Nights and Day", which you can find here on jamendo.com.
v1.01: Fixed bug that deleted Baron Wheels when loading in a design.
v1.02: Fixed typo on level select screen and enabled dropping Glyphs and Manipulators behind Baron Wheels.