Holy crap! It's time for Phase Two of the Ruckingenur Challenge!

If you somehow missed, it the Ruckingenur Challenge is a contest where YOU create a level for the not-yet-but-perhaps-one-day-award-winning Ruckingenur II. Here are the conditions for Phase Two:
Create a level using the Ruckingenur Editor.
You don't have to create any artwork, but you can if you want to.

If you're not making artwork, create your level fully using stand-in graphics. Then submit your level before the deadline and tell me what you want. Provided you're not being ridiculous in your request, you will get your artwork!

If you are making your own artwork, be sure to model it after the graphics in Ruckingenur II. All of my artwork was created with minimalist color palettes and doubled in size to enhance the pixel-ness.

After collecting all the finished levels, I will sort them by difficulty and release a special Community Edition of Ruckingenur. Everyone who created a level will be gratuitously credited.
The author of the best puzzle (as decided by me? or maybe by a poll?) will win some sort of small prize, most likely a shirt. If I receive thirty or more complete submissions, however, I will award a

PIC

Microcontroller Prize Package to the winner, containing a PICkit 2

PIC

Programmer, three PIC18F887 microcontrollers, and three PIC18F886 microcontrollers.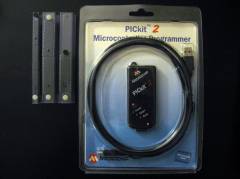 The deadline for entries is December 1st, 2008. If you need artwork, it'd be wise to submit your otherwise fully completed level to me at least two weeks before that date.
As always, I'll be happy to field any questions you have – just post them to the comments!